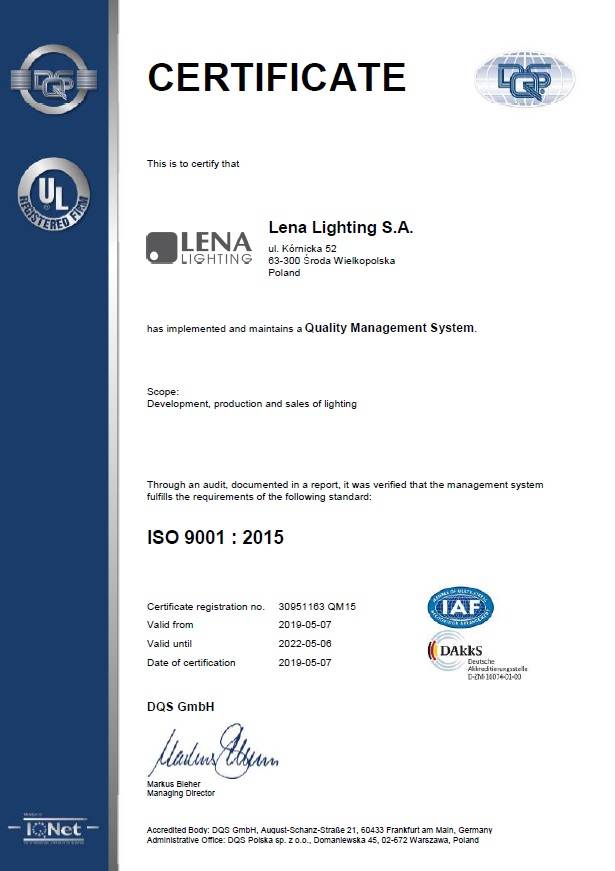 Lena Lighting S.A. has a Quality Management System Certificate which complies with PL-EN ISO 9001:2015.
In 2005 representatives of the renowned institute VDE Prüf-und Zertifizierungsinstitut evaluated the Quality Management System implemented in the company and attested its conformity with DIN EN ISO 9001:2000.
The auditors analysed thoroughly all processes taking place in all departments and on each organisational level of the company.
As a result of this analysis, the company was granted a certificate in the field of: design, production and sale of lamps.





On 07.05.2019 a re-certifying audit was carried out. The Quality Management System of Lena Lighting S.A. was evaluated once more. As a result of this audit, the validity of the certificate was prolonged for further 3 years, i.e. till 06.05.2022.
The auditors analysed and evaluated the Management System for its conformity with the new standard DIN EN ISO 9001:2015.

Download PDF with ISO Certificate
---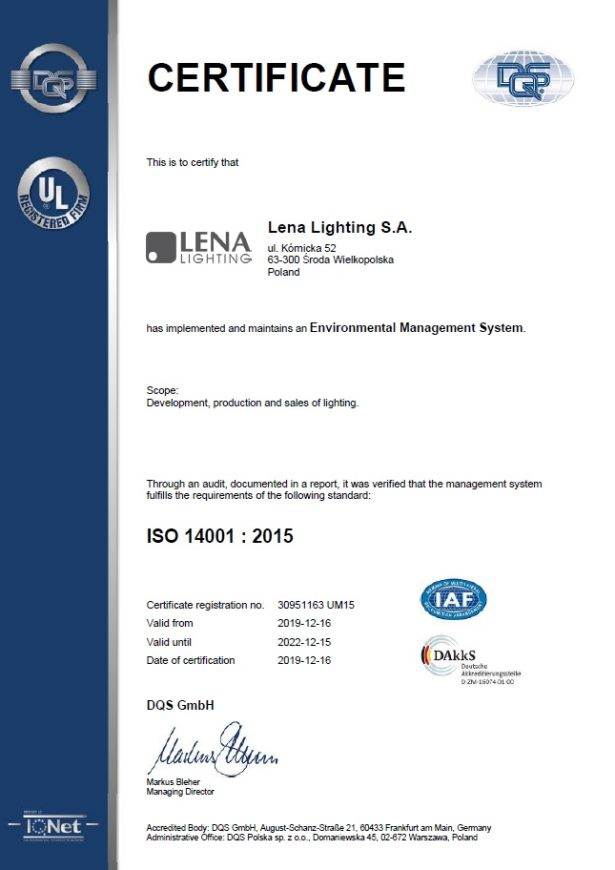 In recent years, we have continued and deepened our growing commitment to promoting an eco-friendly attitude towards business. Being aware of the importance of environmental protection behaviours and future generations inspires us to put maximum effort into offering the highest quality, energy-efficient products; and to make sure that the entire process and technology of their production do not have a negative impact on the ecosystem.
Our efforts and their effectiveness have been confirmed by the ISO 14001 certificate. This means that Lena Lighting has successfully implemented an environmental management system. The overall goal of this system is to create conditions for the functioning of the enterprise in order to minimise the negative impact on the natural environment. We have already succeeded, but we are going to continue our journey and invest in technology and knowledge aimed at care for the natural environment.
Download PDF with Environmental Management System Certificate