How do Bactericidal lamps work?
In times of a pandemic, having germicidal lamps can allow us to be safe, comfortable and eliminate disease. Most often used in hospitals and other medical facilities, office buildings, public facilities or even at home, they allow us to effectively fight viruses.
The dual role of the virucidal lamp
To answer the question of how germicidal lamp works, you first need to briefly explain radiation UVC. It damages the DNA and RNA chains and thus effectively destroys them. This is one of the best air disinfection methods. UVC radiation effectively removes all viruses, fungi, pneumococci, bacteria, and mold. However, you have to be careful, because this radiation also harms people, therefore the safest are virucidal lamps, which have protection against the opening, and their construction allows for effective and safe air purification.
The pandemic has shown us all that germicidal lamps will work anywhere: in public facilities such as schools, clinics, hotels or restaurants, in offices or even private homes. They are often used by doctors in hospitals and other medical facilities.
Germicidal lamps have two uses:
disinfection of air - they can be used in the presence of people. The lamps have a special cover, thanks to which the radiation will not harm us.
disinfection of surfaces - we remove the lamp cover and within 15 minutes most of the bacteria in the room are eliminated. The time of comprehensive disinfection of premises is 2 hours. However, we must remember about the harmfulness of UVC radiation. When disinfecting surfaces, leave the room.
How germicidal lamps work
As one of the leading lighting manufacturers, thanks to the production of lamps with UV-C light, we joined the fight with pandemic and pathogens. We have created safe lamps that meet all standards and, above all, are effective. They work by flowing air. It is first sucked inside the lamp, then it is irradiated with UV-C light and after disinfection it is forced back into the room. Bacteria and viruses are effectively destroyed.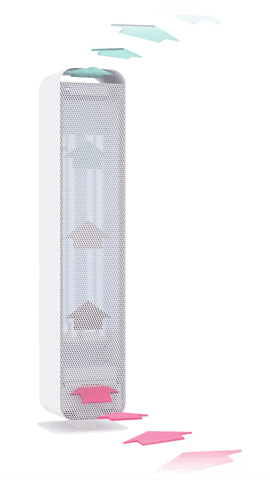 In response to the constantly growing market needs, we constantly improve our products. We create alternative versions. In accordance with the needs, our offer includes portable lamps that can be easily moved and, if necessary, clean each room. Their advantage is, above all, safety for people, economy and ecology. We do not use expensive chemicals that harm the environment and us, when we inhale them, e.g. when cleaning.
You can find out about the effectiveness of germicidal lamps by entering hospitals, hotels or restaurants. Increasingly, they can also be found in office buildings, where remote work is mostly impossible, and the employer must ensure the safety of his employees.